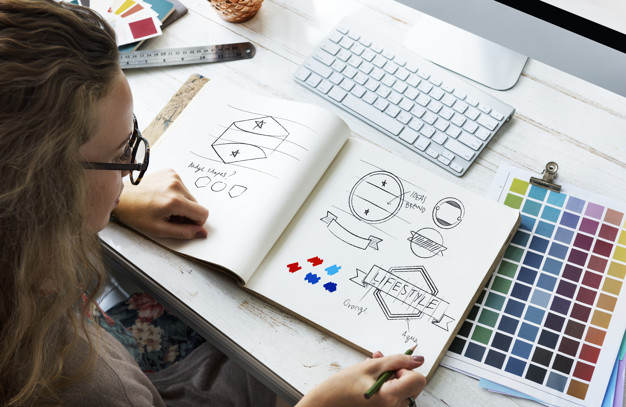 10 Business Logo Design Trends to Watch-out in 2021
A graphical mark used to make people identify the brand out of many products is commonly called as a logo. It aids people to identify the product and recognize the brand easily. An easily remembered logo produces astounding results. Hence, marketers try to have a very attractive, apt, unique, and creative logo. Marketers bear the cost of logo design because they know the consequence of having a good logo.
Logo designing involves identification of the logo to be designed. Few companies choose image-based logos which are a symbol. Pepsi, Microsoft, Apple etc are such companies. Other than image-based logos, companies also go for text-based logos which mention the name of the company. Google, McDonald's etc are companies which have text-based logos. Combined logos are also seen many times where both text and image is used.
Companies following the logo trends surpass other companies in getting the attention of the crowd. Logo speaks about the company and promotes the product. It, thus, becomes mandatory to have a logo that does branding swiftly.
In this article, we have come up with the logo designs that will trend in 2021. Have a look and consider them. Grab the suggestions and lead the market.
10 Business Logo Design Trends to Watch-out in 2021
1. 3D logo: In 2021, 3D logos will be in trend. Designers and clients will insist to have 3D gradients. Add highlights, transition effects, and shadows to the logos to give it a modern touch. 3D logos are so astounding that they stay in the user's mind for long. So, think out of the box. Apply the creativity and design some dimensional logos this year
2. Letters: Make sure to select the correct font size. It is a matter of branding the business. Hence, it should be formal yet catchy. Expressing more by using less is one trend that continues always. Business professionals call it minimalism. Don't spoil the image by having unnecessary decorative elements. Be someone who makes an ideal selection. Choose letters that suit you and also urge society to believe you.
3. Symbols: Thanks to symbols. They make you speak a lot without using words. This year prioritize symbols over text and see how long you sustain in the wish list of your targeted customer. You need not do much labor. Use simple shapes like circles, square etc and give them creative touch. People find symbols unique and attractive. For sure, symbols will get you their attention.
4. Hand Drawn Logos: Being capital intensive is the need of the hour. Nonetheless, people still love the creativity that is the talent of a human being. In 2021, show the world your handmade logos. It will appear to be trustworthy and authentic. Your logo will be accepted by people soon. Design your customized logo and add the beauty of love in it.
5. Line Drawing: Well, you won't deny the fact that simplicity has no substitute. Having too much on the label will make your brand boring. Having a simple, best-describing logo will fetch you more customers. People in 2021 will love to have straight and simple logos. Use monochromes this year. Don't forget that the logo should describe your product in the best way possible.
6. Illustrations and Animations: People expect logos as creative as possible. Keep on checking for latest illusions for logos. It will give you the boost you need to grow. Using animations will make you look practical and modern. Stay updated and use the animations that will trend in 2021. Move-in right direction using the right logos and see your logo will attract many users.
7. Nature Oriented Logos: Bring nature in your logos and trust me it will be worth it. No one ever imagined 2020 to happen in a way it went. Post covid human being is attached to nature. Nature-based logos will appear him good. It will give him peace. The consumer will automatically strive to use your product. In 2021, you are suggested to use this tactic to make your consumer believe that you do value nature. Use greenery in your logos and make your customer smile.
8. Word Mark: Using word mark is the easiest and smartest way of designing a logo. Using word mark refers to the process of using solely the brand name in the logo. This works best if done in your way. In 2021, let a good word mark logo do marketing for you. Merge your brand name and your logo and people will identify and recognize you easily.
9. Black & White: Black and white is classic colors known to have a standard. Use these two colors in your logo and look different. These two colors will give your logo a classy look. It won't require much hard work or creativity. Using black and white colour other than animations, 3D logos etc will also help you get user attraction.
10. Vibrant Colors: Black and white color appear boring to few people. If you are one of them then you are suggested to use bright colors in your logos. Use colors that shine and the colors will positively impact your brand image. If you have an old logo, 2021 is the year to give it a new look. Use various colour combinations to design your logo. Moreover, make sure to apply minimalism.
Epilogue
According to DigitalPopeye businesses have many challenges to overcome. Moreover planning the logo designing cost will not only save your money but will also fetches profits. Having an apt logo does wonders.
The cost of the logo varies from professional to professional. It excludes the cost of promotion, sales etc. Many logo designing companies do charge a good amount as people generally don't know the exact price they should pay.
What are you waiting for then? Follow the trends in 2021 and take your business to a higher level.